Our New 2022 Harvest has just arrived!
Here is a quick comparison of our 3 new products.
Every harvest taste different!
Arbequina

Highly robust, grassy and strong in aroma, leaving a tasteful burning sensation in the mouth.

Shop Now

Ayvalik

Lighter and buttery, not as strong compared to Arbequina and Trilye. Ideal for use when a strong olive oil taste is not desired. 

Shop Now

Trilye 

Fruity, fragrant, and refreshing. It leaves a perfumed scent and a slight burn in the mouth.

Shop Now
Arbequina

Lighter, buttery and fruity. Its pungency is lower than the Ayvalik, making it the perfect oil for sauteing, baking, or for mixing in salads. 

Shop Now

Ayvalik

Fruity, with a spicy bitterness and pungency. Strong sensation of herbal notes, making Ayvalik one of the top choices for salad dressings and marinades.

Shop Now

Trilye 

Robust, grassy, and pungent. Stronger and more aromatic compared to our Arbequina and Ayvalik. Perfect for salads, homemade dressings, and dipping sauces.  

Shop Now
Our EVOO claims more than 35 awards from many prestigious international competitions!
View All Awards
Gold - New York IOOC, USA

Best in Country - Anatolian IOOC, Turkey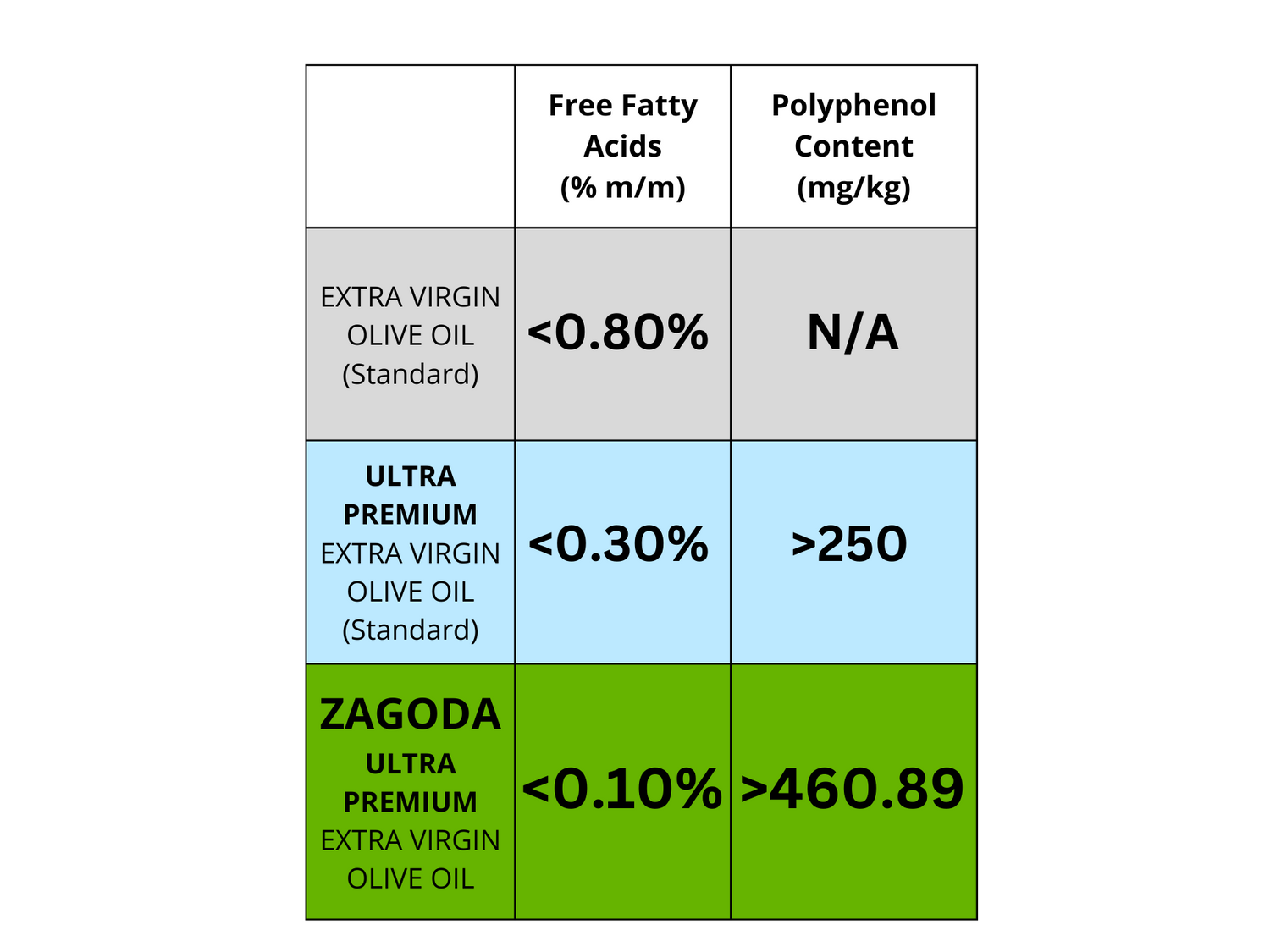 What Makes Us Different?
Very Low Acidity
The Ultra-Premium (UP) standard was created in response to the growing need to separate high quality extra virgin olive oils from what dominates the so-called "gourmet" and "premium" olive oil markets. UP olive oil needs to have less than 0.30% acidity: our oils have only 0.10%!
Very High Polyphenol Content
Consuming foods that are high in polyphenol helps promote good gut health and reduce inflammation. Contrary to popular belief, high polyphenol content can be found in any olive oil cultivar. The brighter and greener the flesh of an olive, the higher number of polyphenols it contains. In terms of taste, the more burning sensation it creates in the mouth, the higher concentration of polyphenols.
Cold Pressed on the Day of Harvest
We don't let the olives sit in containers for days after picking them up. We immediately bring them to the facility to be pressed on the same day, ensuring to preserve the highest amount of nutrients in the olive fruit. This is not the case for most store-bought "cold pressed" olive oils!
Shop Now